AWT keeps 25,000 trucks off the road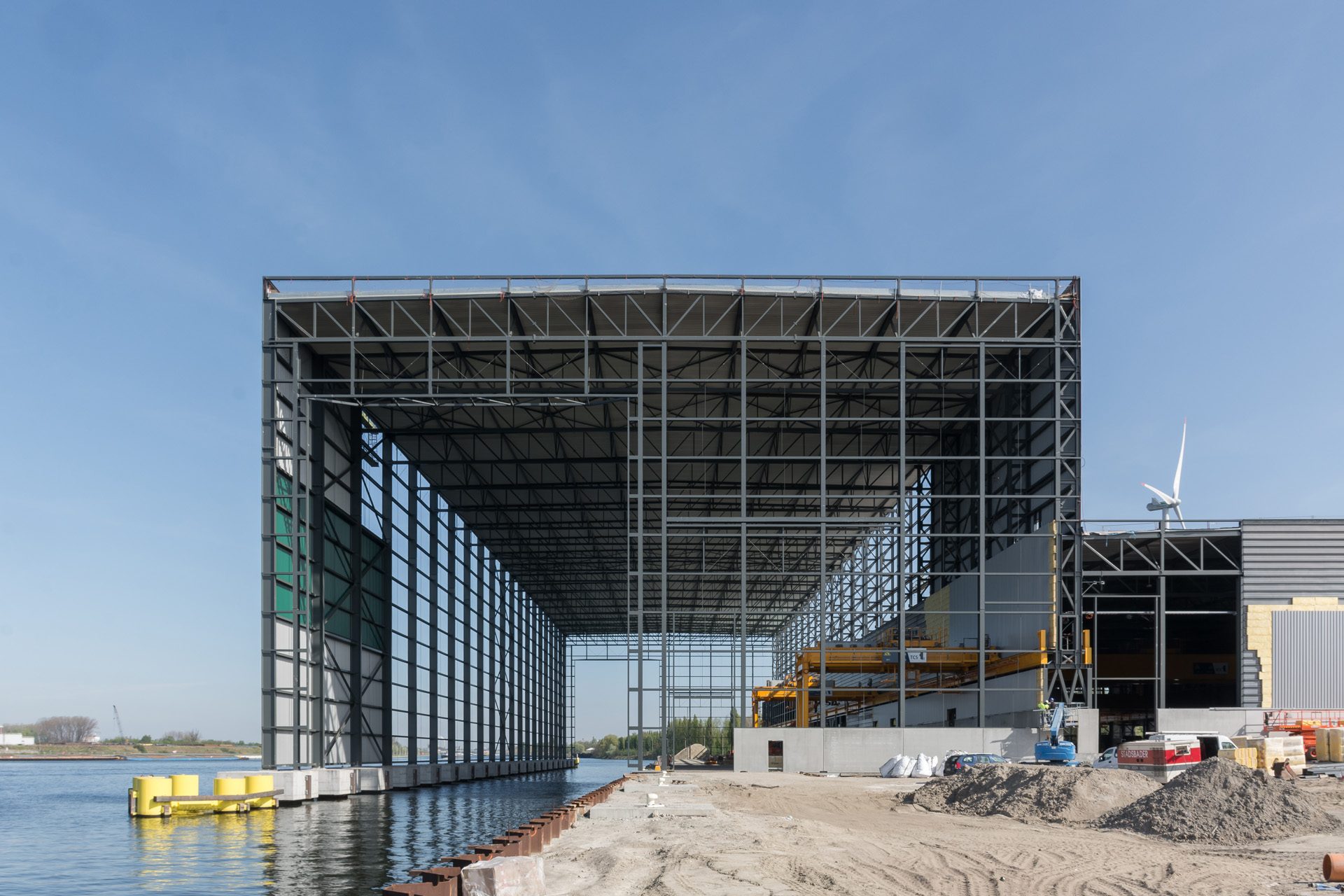 North Sea Port's first-ever covered loading quay 'All Weather Terminal' (AWT) is operational. The new terminal in Ghent, next to ArcelorMittal Belgium's existing general cargo quay on the Gent-Terneuzen Canal, will be used primarily to store and ship ArcelorMittal Belgium's finished steel coils. With the AWT, this can now be done 24 hours a day, regardless of weather conditions. The higher shipping capacity by ship saves up to 25,000 truck trips per year, making the AWT a substantial investment in more sustainable logistics.
The AWT has a 200-meter-long covered quay wall, a 25-meter-wide dock and a volume of 30 meters above the water level that allows ships with a carrying capacity of up to 10,000 tons to dock at the new quay. The presorting area is equipped with 2 automated travelling cranes. For loading and unloading the ships, there are 2 telescopic cranes. The terminal also consists of a warehouse (240 meters long and 60 meters wide) with a storage capacity of 60,000 tons, 2 tracks connected to the quay bund and 3 fully automated travelling cranes for unloading, sorting and loading material. Unique to this AWT, the entire logistics process between unloading the wagon and loading onto the ship was automated by ArcelorMittal Belgium.
Sustainable logistics
The very first AWT in Ghent makes it possible to bundle flows of goods even more efficiently, giving companies more logistical options. Loading high-grade steel used to be possible only in dry weather. With the AWT, this can now be done 24/7 regardless of weather conditions. "This allows ArcelorMittal Belgium to further strengthen its service to its customers," said Manfred Van Vlierberghe, CEO of ArcelorMittal Belgium. "The AWT makes it possible to better spread the supply of coils from ArcelorMittal Gent's shipping halls to the quay and thus optimize our internal logistics operation." Use of the AWT, in combination with the existing "open" general cargo quay, should thus support the Ghent steel company's growth. "The AWT is also an investment in sustainability," continues Manfred Van Vlierberghe, "because up to 25,000 truck trips per year will be saved. ArcelorMittal Gent thus aims to become a leader in sustainable logistics."
More efficient flow of goods
The new terminal is owned by AWT GENT NV, which was founded by Flemish investment company PMV and the investment fund EPICo. AWT GENT had the terminal designed and built, and is also responsible for its maintenance and operation. The warehouse should not only be able to offer a logistics service to ArcelorMittal Gent but also to other customers. 20% of the storage capacity of 60,000 tons can also be used for the handling of other materials and (general cargo) goods. "The very first AWT at North Sea Port makes it possible to bundle the various flows of goods in the port even more efficiently, giving companies more logistical options," states Daan Schalck, CEO of North Sea Port, which granted the land for the construction of the terminal in concession and dredged the berth. "North Sea Port wants to use innovative infrastructure to make the port as accessible as possible: by rail, road, sea and inland waterway. By investing in the AWT together with various partners, North Sea Port helps companies grow sustainably."